Farrago Puts Your Audio at Your Fingertips!
Our great new app provides robust, rapid-fire soundboards for audio playback by performers of all stripes.
Boston, MA - Meet Farrago, the powerful new soundboard app for Mac! It's the best way for all sorts of performers to quickly play sound bites, audio effects, and music clips. Podcasters can use Farrago to include musical accompaniment and sound effects during recording sessions, while theater techs can run the audio for live shows. Whether it's providing quick access to a large library of sounds or running through a defined list of audio, Farrago is ready to assist!
We thought we'd let Farrago introduce itself with a quick 1-minute movie. Just click to play!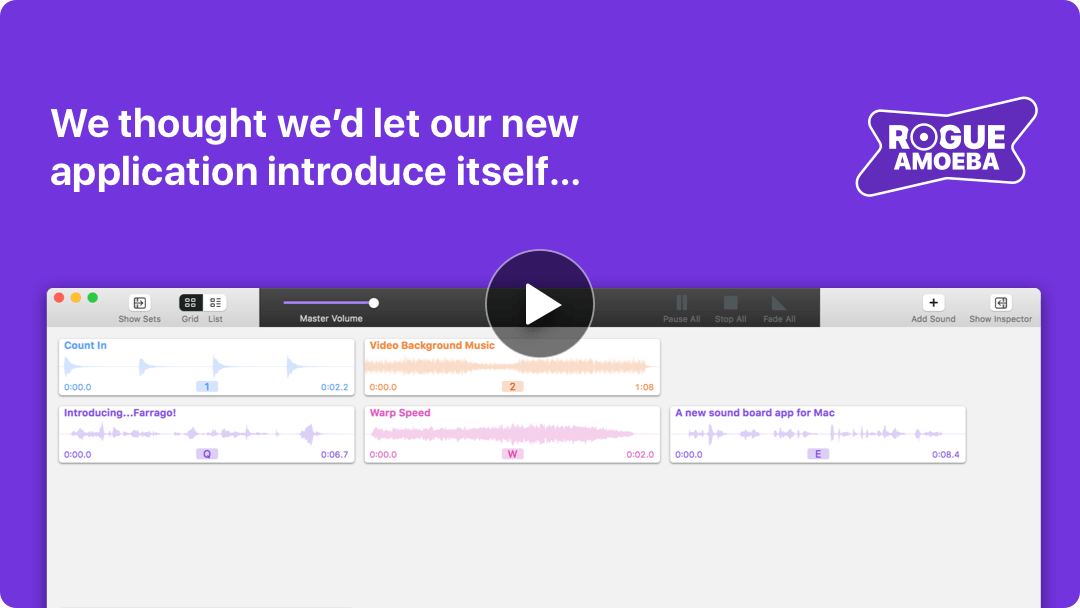 Those who've used a soundboard app before will find Farrago familiar in its power and capabilities, yet refreshingly well-designed. Fast triggering via keyboard or mouse is coupled with robust playback options including fades, adjustable in/out points, and more. Meanwhile, management of audio is a breeze, thanks to the tile-based interface. The tile layout can be adjusted to perfection, while the limitless number of sets allow grouping in any way imaginable.
A Powerful Podcast Partner
Farrago's not just a skilled solo artist either. While it's great on its own for theater shows and many other live performances, it's also made to combine splendidly with other apps from Rogue Amoeba. Podcasters can use Farrago in conjunction with our audio routing tool Loopback and our audio recorder Audio Hijack to get the exact audio their shows need.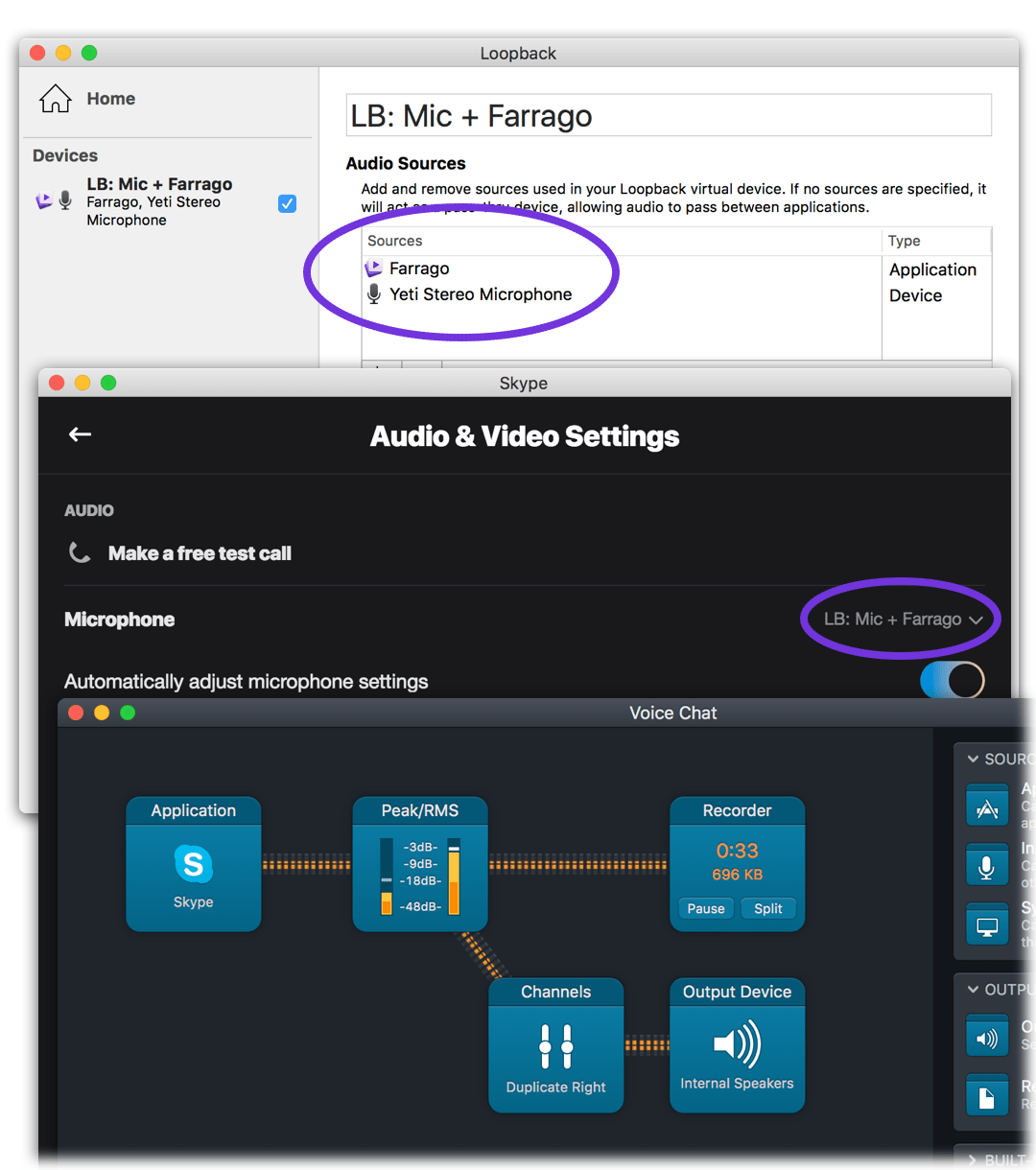 The example seen here shows Loopback creating a virtual device ("LB: Mic + Farrago"), which pulls in the audio from both a physical microphone and Farrago. When this device is set as the input source in Skype, audio from both these sources is passed on to other callers. At the bottom, Audio Hijack is recording Skype, with all the relevant audio (local mic, remote mic, and Farrago's sounds) being captured in a single file. These powerful combinations help creators make richer podcasts that include theme songs, sound effects, and more.
Whether paired with other apps, or all on its own, Farrago is a powerful, yet powerfully simple-to-use, tool. Performers of all stripes will find it perfect for their on-demand audio playback needs.
Information & Links
Farrago runs on Mac OS X 10.10 (Yosemite) and higher, with a free fully-functional trial available for download. While in trial mode, the quality of clips heard via Farrago is intentionally degraded after 20 plays (per launch).
The unrestricted full version of Farrago can be purchased for the limited-time introductory price of just $39.
Farrago information:
https://rogueamoeba.com/farrago/
Farrago introductory movie (1 minute):
https://rogueamoeba.com/farrago/?playmovie
Direct download:
https://rogueamoeba.com/farrago/download.php
Purchase link:
https://rogueamoeba.com/farrago/buy.php
Artwork
Farrago splash image
Download the full-size version of this image
A zoomed-in look at Farrago's tiles
Download the full-size version of this image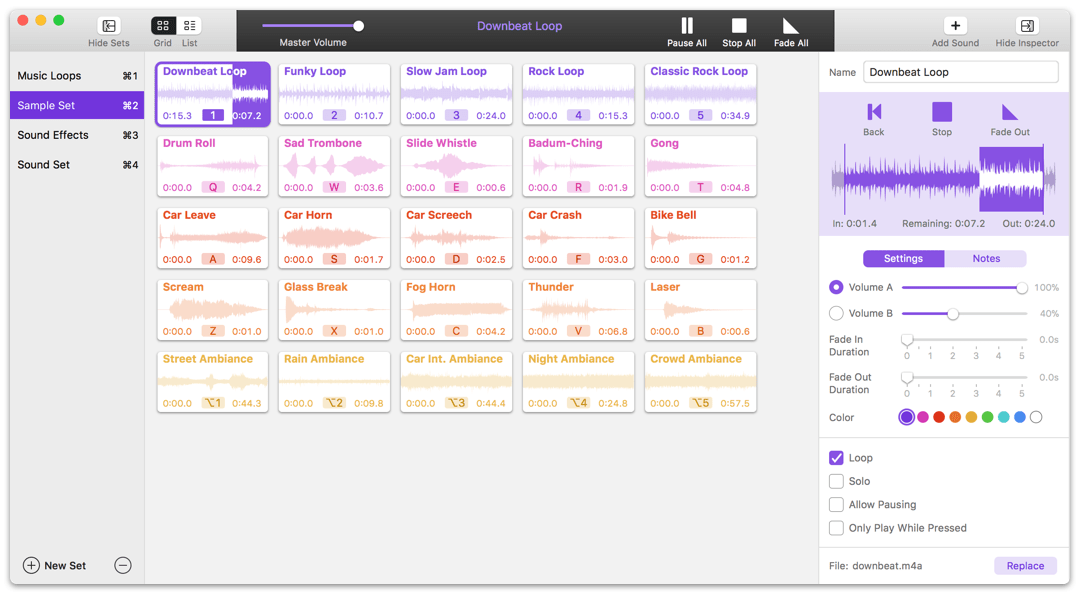 Farrago in action, playing audio
Download the full-size version of this image

A zoomed-in Farrago tile playing audio
Download the full-size version of this image
Farrago's App Icon
Download the full-size version of this image
About Rogue Amoeba
Rogue Amoeba Software, Inc. is a privately held software company, based in the USA with offices around the globe. Since 2002, we've been making tools for MacOS to assist users with all their audio needs. In that time we've delighted thousands of users and received some of the highest honors in the industry. Our product line includes our wildly popular Audio Hijack audio recording tool, our streamlined audio editor Fission and our home audio streamer Airfoil.
To learn more about Rogue Amoeba Software, and to download our full press kit, please visit: https://rogueamoeba.com/company/.