Make Custom iPhone Ringtones with Fission
Our Fission audio editor has revamped support for creating custom ringtones for use on the iPhone, iPad, and iPod Touch.
Boston, MA - Today, we're happy to introduce an important update to Fission, our fast and lossless audio editor for MacOS. Fission 2.4 brings revamped support for creating custom ringtones for use on the iPhone, as well as the iPad and iPod Touch.
Using custom tones, you can change phone's ringtone to anything you like. You can also assign specific songs or sounds to individuals, to know who's calling or texting without even looking at the phone. You can even pick music to wake up to, so you can rise and shine with your favorite song, or force yourself out of bed with music you despise.
Apple's newly-released iTunes 12.7 removed several features, including support for managing and syncing custom tones. This feature removal broke functionality in several current apps, including Apple's own GarageBand app, as well as older versions of Fission. Fortunately, we've been able to work around the issue. With Fission 2.4, users can once again save custom tones for use on iOS devices!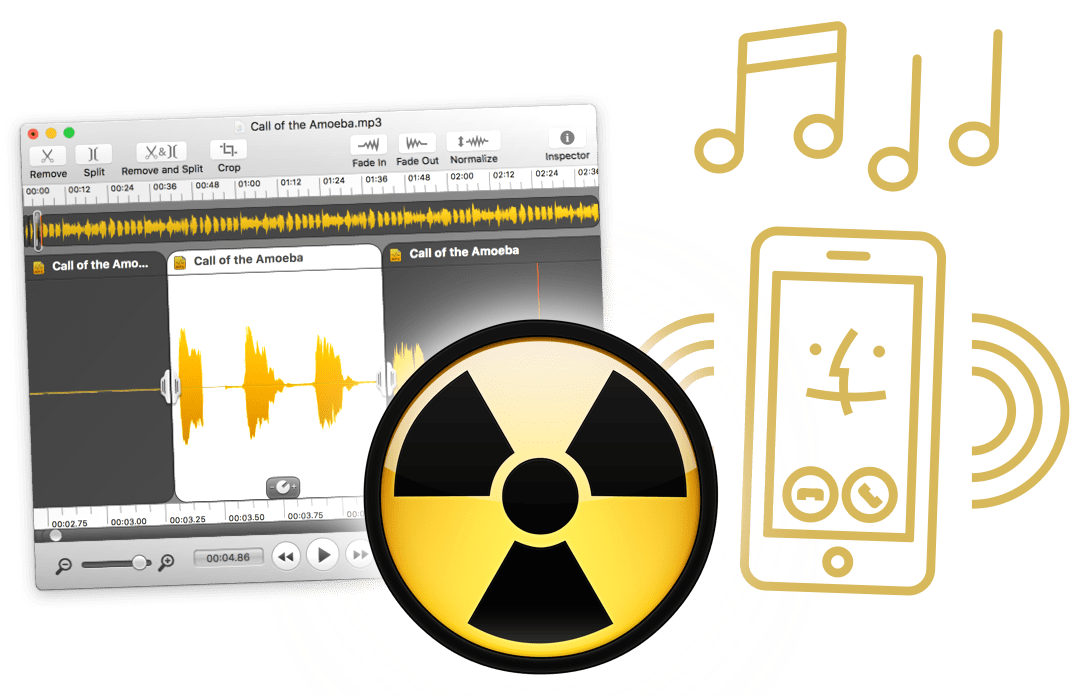 Of course, Fission is great for all sorts of audio editing, not just ringtones. Use it to join files, crop and trim audio, or rapidly split up long files into individual songs. Fission is streamlined for fast editing, and it works without the quality loss other audio editors cause.
If you need to convert between audio formats, Fission can do that too. Rapidly export or batch convert files to the MP3, AAC, Apple Lossless, FLAC, AIFF, and WAV formats.
With Fission, simple audio editing is a reality, and custom ringtones are a breeze.
Information & Links
Artwork
Fission saving an iPhone Ringtone
Download the full-size version of this image.
Fission's App Icon
Download the full-size version of this image.
About Rogue Amoeba
Rogue Amoeba Software, Inc. is a privately held software company, based in the USA with offices around the globe. Since 2002, we've been making tools for Mac OS X to assist users with all their audio needs. In that time we've delighted thousands of users and received some of the highest honors in the industry. Our product line includes our wildly popular Audio Hijack audio recording tool, our streamlined audio editor Fission and our home audio streamer Airfoil.
To learn more about Rogue Amoeba Software, and to download our full press kit, please visit: https://rogueamoeba.com/company/.