Never used Airfoil? Check out the main page!
What's New in Airfoil 5
With Airfoil 5, you can stream audio from your Mac to more devices than ever. Version 5 adds support for sending audio to Sonos speakers, Chromecast hardware, and Bluetooth devices, along with many other improvements.
Read this page to learn about the latest version, and remember, owners of older versions of Airfoil are eligible for a heavily discounted upgrade to Airfoil 5.
Free Download
Upgrade Now
Major Updates in Airfoil 5
Stream to HomePod
Apple's HomePod speaker doesn't need to be limited to just the music available from Apple. With Airfoil, you can stream any audio to it, tweak it with the built-in Equalizer, and even send to multiple HomePods in sync.
---
Support for Sonos Speakers
Sonos's AirPlay-compatible devices are automatically supported, and older Sonos hardware can receive audio as well.
---
Chromecast Devices Join The Party
Stream any audio from your Mac to Google Chromecast and other Cast devices. With the low price of Cast hardware, it's a bargain to get wireless audio throughout your home.
---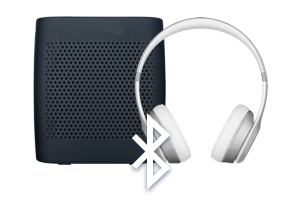 Even Send to Bluetooth Devices
There are thousands of different Bluetooth speakers or headphones, and now Airfoil can stream to these as well. If your Mac can see, Airfoil can play to it.
---
Create Speaker Groups
With Speaker Groups, you can combine multiple outputs into one for faster control. Create zones, then send audio to multiple speakers with a single click.
And Much More...
AirPlay Devices, Too
Of course, Airfoil 5 is still the best way to send any audio from your Mac to your AirPlay devices.
Multiple Outputs, in Sync
Send to any combination of AirPlay, Bluetooth, and Chromecast devices, and hear your audio in sync.
Meet Airfoil Satellite
Use the new Airfoil Satellite on iOS, Windows, or Mac to receive audio and remotely control it all.
Silence Monitor
Use the new silence monitor to have Airfoil automatically disconnect when silent audio is streaming. It's great for workplace or shared home setups.
Custom Equalizer Presets
Airfoil's Effects window now allows you to save custom EQ settings. Adjust the Equalizer until it's just right, then save a preset for later use.
Interface Enhancements
We've refined the interface in Airfoil with improvements like longer volume sliders, as well as attractive new colors and icons.